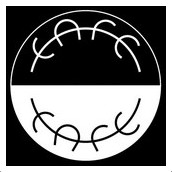 Café Café - Kroeg - Club - Concertzaal
UpComing: Live in de club...

Zondag 21/4: Discoteca! (DJ) (free!) (23u-03u)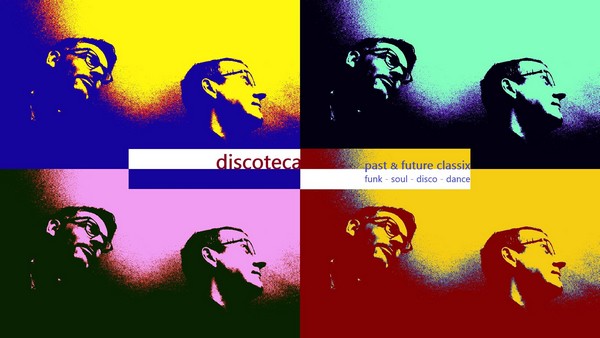 Een extra weekenddag, dus weer tijd voor "eens iets anders".
Onze collega's van Forty Five trekken de New Wave Paaskaart, dus gaan wij voor iets frisser, Discoteca !
Resident DJ's Wannes en Deejay GL presenteren een mix van de beste dansklassiekers uit de soul-, funk-, disco- en dancemandjes. Open dus de eitjes en ontdek 'A lot of Funky Shit, Groovy Tunes and Big Beats' !

Dinsdag 23/4: Hydrogen Sea (try-out concert) (free!) (20u30)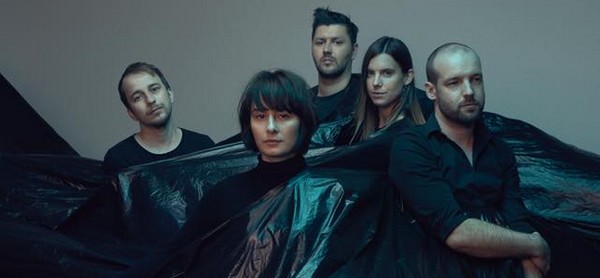 Hydrogen Sea heeft een nieuwe plaat 'Automata' klaar en presenteert deze in een uitverkochte AB. Op 23 april komen ze naar Café Café om dit nieuwe werk al even te testen op een live publiek! De band is uitgebreid en staat live voor een nieuw geluid, met de vocals van Birsen Uçar als kenmerkende rode draad.

Hydrogen Sea breidt uit, maar boet niet in aan intensiteit. Met Automata verbreken Birsen Uçar en Pieterjan Seaux de banden met hun computer en hijsen ze twee nieuwe bandleden aan boord. <<< lees verder >>>

Donderdag 25/4: Kel Assouf (concert) (free) (21u)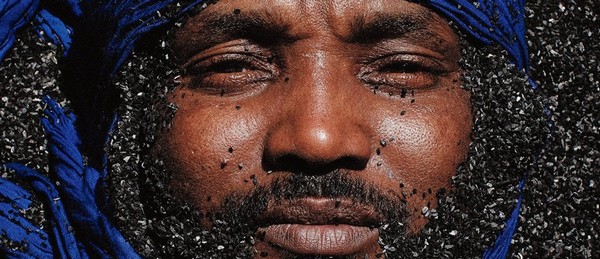 Wij zijn super excited! KEL ASSOUF komt op 25 april naar Café Café!

Kel Assouf means both « nostalgia » and « son of eternity » in Tamashek, the language of the Sahara nomads. In 2006 the group gathered around exiled Nigerian musician Anana Harouna.
With one foot in the desert and the other in Europe, Anana Harouna sings about Sahara, Niger and Brussels. His short phrases similar to Japanese haiku spread a message of peace and respect.
After the album Tin Hinane (Igloomondo 2010), he started working with Tunisian producer Sofyann Ben Youssef (Bargou 08 and AMMAR 808) creating a distinctive tradi-modern sound that is both heavy and hypnotic.
With their album Tikounen (Igloomondo 2016) they turned into a heavy rock sound : bites of Led Zeppelin and Queens of the Stone Age mixed with African trance rhythms and Tuareg scales.
During summer 2017 Kel Assouf centered their efforts into an unconventional power trio. Drummer Olivier Penu and keyboard player Sofyann Ben Youssef - performing simultaneously moog bass lines and organ - support Anana Harouna's vocals and guitar. Right to the point : joy and authenticity. <<< lees verder >>>

Vrijdag 26/4: Lokale helden
Ruby Grace (Concert) (Free) (21u)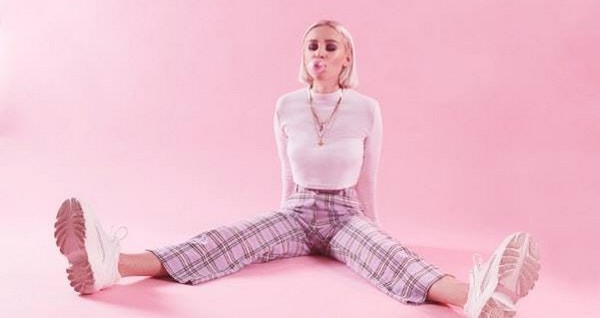 I.k.v. LOKALE HELDEN komt Ruby Grace naar Café Café op vrijdag 26 april!

+++ RUBY GRACE +++
Ruby Grace is een 20-jarige zangeres uit Hasselt. Haar prachtige hese stem zweeft tussen pop en soul, net als haar grote inspiratiebron Amy Winehouse, maar Ruby Grace combineert haar stemgeluid met elektropop. Met haar originele sound en haar zelfgeschreven nummers zet ze een intrigerende sfeer neer, die mensen vaak ontroert. "Haar diepe stem, coole stijl en unieke sound zijn een gouden formule," schrijft online magazine Enfnts Terribles. <<< lees verder >>>
Jules X (DJ) (free) (24u-03u)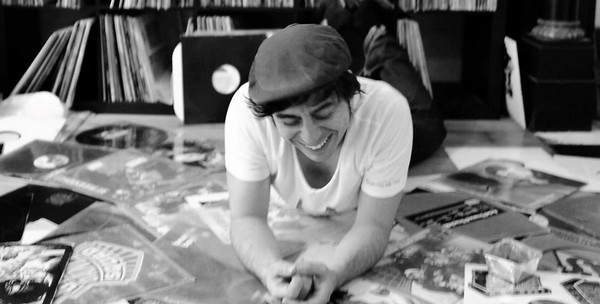 Jules X heeft Hasseltse roots en dat komt ie helemaal tonen op 26 april want dan staan in Vlaanderen alleen maar lokale helden op een podium.

Hij heeft een unieke stijl waarbij hij verschillende muziekstijlen samenbrengt ... hiphop, funk, house, rock, 70's, 80's, 90's, disco's. You name it! Hij speelt door het hele land, nog steeds met behulp van goede oude vinyl.

www.julesx.be
www.mixcloud.com/julesx

Zaterdag 27/4: Zaternachten w/ The Bearded Bast@rd (DJ) (Free) (23u-03u)
Sommigen zeggen dat The Bearded Bastard gewoon Luc heet.
Sommigen zeggen zoveel, wij weten alleen dat deze Bastard de lekkerste mixen en reworks in elkaar draait als was hij de uitvinder van de remix himself. U wordt geacht erop te dansen.
ZATERNACHTEN is sinds september het gloednieuwe feest van Café Café!
Samen met onze beste residents bouwen we iedere zaterdag een eclectisch dansfeest in onze club met een mix van de beste beats, rock'n'roll, hiphop, soul, funk en een hele zwaai Greatest Switch party classics.
Stilstaan is verboden op zaterdagavond in onze club!

Dinsdag 30/4: 25 jaar Toutpartout: Stonefield (AUS) (Concert) (free) (21u) & afterparty (DJ's) (22u30-04u)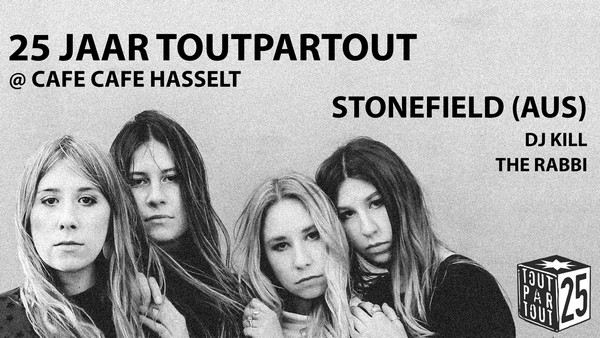 Het Europese bookingskantoor TOUTPARTOUT blaast 25 kaarsjes uit in 2019 en viert daarom feest! De Limburgse bodem is de plek waar het ooit allemaal begon en dus kan een party in Café Café niet uitblijven.

De Australische psychrockers van Stonefield geven in Hasselt de aftrap van een uitgebreide Europese tour, hun nieuw album werd geproduced door Stew & Joe van King Gizzard & The Lizard Wizard en komt deze lente uit op [PIAS] en Flightless Records.

Afterparty wordt verzorgd door lokale Limburgse helden DJ KILL aka David Schroyen (een oudgediende van Toutpartout) en The Rabbi!

Gratis toegang! Dag erna is het 1 mei, dus verlof!

21u00 DOORS
21u30 STONEFIELD
22u30 DJ's

DJ'S in de Club

steeds GRATIS tenzij anders vermeld.
op vrijdag meestal vanaf 24u
op zaterdagen speelt meestal een huis dj in de club (= Zaternachten 23u)
vrijdag 4 januari
Cafe Cafe invites WeZienWel:
Suze Ijó (NL) & WLC
vrijdag 11 januari
Tmmerman invites Stellar OM Source
vrijdag 18 januari
Kiani and his Legion (6hr set)
vrijdag 25 januari
Amare
zaterdag 26 januari
Peuk (concert) + Afterparty w/ Tamashot (DJ)
vrijdag 1 februari
Krewcial
zaterdag 2 februari
Zaternachten w/ Mr Phonky
vrijdag 8 februari
Pelace
zaterdag 9 februari
Zaternachten w/ The Ant
vrijdag 15 februari
Ilse Liebens
zaterdan 16 februari
Zaternachten w/ The Rabbi
vrijdag 22 februari
We play house presents Jensen
| | |
| --- | --- |
| zaterdag 23 februari | Zaternachten w/ The Bearded Bast@rd |
| donderdag 28 februari | Klub Kasjmir w/ N9899, Hygra x Fengari |
| vrijdag 1 maart | Pierre |
| zaterdag 2 maart | Zaternachten w/ The Ant |
| vrijdag 8 maart | Timmerman invites: Asa Moto |
| zaterdag 9 maart | Zaternachten w/ Mr Phonky |
| vrijdag 15 maart | Black Mamba |
| zaterdardag 16 maart | Zaternachten w/ The Rabbi |
| vrijdag 22 maart | Buscemi |
| zaterdag 23 maart | Zaternachten w/ The Bearded Bast@rd |
| vrijdag 29 maart | Hush Hefner |
| zaterdag 30 maart | Zaternachten w/The Ant |
| zondag 31 maart | B'elle Sounds After Carnaval House beatz |
| vrijdag 5 april | Prospa (UK) |
| zaterdag 6 april | Zaternachten w/ The Ant |
| vrijdag 12 april | Michael Midnight |
| zaterdag 13 april | Zaternachten w/ The Rabbi |
| vrijdag 19 april | Café Café invites Alwys Late, Djumaa, Vertier (FloorFiller) |
| zaterdag 20 april | Zaternachten w/ Mr Phonky |
| zondag 21 april | Discotheca |
| vrijdag 26 april | Lokale Helden: Jules X |
| zaterdag 27 april | Zaternachten w/ The Bearded Bast@rd |
| vrijdag 3 mei | |
| vrijdag 10 mei | Timmerman All night Long |
| vrijdag 17 mei | |
| vrijdag 24 mei | Amare |
| vrijdag 31 mei | Red D |